Citrucel Fiber Sugar Free, 42 Ounces
Rp 339,218.60
This Item is Only Available Online at Costco.com
100% Soluble
Non-Allergenic Methylcellulose Fiber
Gluten Free
Description
Size Guide
Additional information
Reviews (0)
Description
WHY DO I NEED FIBER?
Fiber is a dietary material containing substances that are resistant to the action of digestive enzymes.

Fiber adds bulk and texture to foods. As it passes through the body, fiber helps your system stay regular, and that's why many doctors recommend fiber to help manage constipation.

All fiber is not the same, and it doesn't work in your system the same way, either. Fiber can be categorized by two distinct characteristics:

Insoluble or soluble
Insoluble fiber doesn't absorb water; soluble fiber does. Both help material move through your digestive tract, but soluble fiber, like Citrucel, can help give stool a softer, bulkier consistency that's easier to pass.

Fermentable or non-fermentable
Many soluble fibers ferment in the large intestine, creating unnecessary, and uncomfortable gas. Citrucel with Methylcellulose Fiber powder gives your body the fiber benefits it needs without causing excess gas.*
*Based on laboratory testing. Individual results may vary. 
FIBER AND YOUR DIET
That's 10-20 grams less than recommended, according to the American Dietetic Association.

Eating foods that are rich in fiber can help increase regularity. If you experience digestive irregularity, Citrucel with Methylcellulose Fiber powder (a bulk fiber laxative) can help restore regularity.

Always Read and Follow Label Directions.
MANAGE CONSTIPATION AND GAS
How Citrucel helps manage constipation:
Citrucel with Methylcellulose Fiber is a bulk fiber laxative. Methylcellulose fiber is not digested by the body and can absorb up to 20 times its weight in water. This allows material in the digestive tract to take on bulk and a soft texture as it passes through the body. Methylcellulose fiber keeps stools from being excessivly dry and hard. These bulkier stools are easier to pass, so if you suffer from constipation, Citrucel with Methylcellulose Fiber can help keep things moving.

Citrucel also limits excess gas:

Almost all types of soluble fiber can ferment in your digestive system and cause excess gas. And if you're taking a fermentable fiber supplement like psyllium to improve regularity, you could actually be making your digestive system even more sensitive. Citrucel with Methylcellulose FIber powder restores and maintains your regularity, and it's also the only fiber that won't ferment and cause excess gas.*

*Based on laboratory testing. Individual results may vary. 
GREAT TASTING, EASY TO MIX POWDER
Each scoop of Citrucel with Methylcellulose Fiber contains two grams of methylcellulose.

Why Choose Citrucel with Methylcellulose Fiber?

Doctor recommended
Smart choice for sugar-restricted diets
100% soluble fiber
Encourages gentle elimination naturally, without harsh chemical stimulants
GET TO KNOW CITRUCEL
DRUG FACTS

Ingredients
Active Ingredients: (in each rounded tablespoon)
Methylcellulose (a non-allergenic fiber) 2g – Bulk-forming fiber laxative, Inactive Ingredients: aspartame, dibasic calcium phosphate, FD&C yellow #6 lake, malic acid, maltodextrin, orange flavors (natural and artificial), potassium citrate, riboflavin
Directions

MIX THIS PRODUCT (CHILD OR ADULT DOSE) WITH AT LEAST 8 OUNCES (A FULL GLASS) OF WATER OR OTHER FLUID. TAKING THIS PRODUCT WITHOUT ENOUGH LIQUID MAY CAUSE CHOKING. SEE CHOKING WARNING

use product at the first sign of constipation or irregularity
put one dose in a full glass of cold water
stir briskly and drink promptly
drinking another glass of water is helpful

Age, Dose

adults & children 12 years of age and over, start with 1 rounded tablespoon. Increase as needed, 1 rounded tablespoon at a time, up to 3 times per day.
children 6 -11 years of age, start with 2 level teaspoons. Increase as needed, 2 level teaspoons at a time, up to 3 times per day.
children under 6 years of age, consult a physician

(NO SCOOP DOSING):

Fill glass with at least 8 oz. of cold water.
Measure rounded tablespoon of product (one dose) and stir product into water. Stir briskly and drink promptly.

Warnings
Choking: Taking this product without adequate fluid may cause it to swell and block your throat or esophagus and may cause choking. Do not take this product if you have difficulty in swallowing. If you experience chest pain, vomiting, or difficulty in swallowing or breathing after taking this product, seek immediate medical attention.

Ask a doctor before use if you have

a sudden change in bowel habits that persists for two weeks
abdominal pain, nausea or vomiting

Stop use and ask a doctor if

constipation lasts more than 7 days
you have rectal bleeding

These could be signs of a serious condition.
Keep out of reach of children. In case of overdose, get medical help or contact a Poison Control Center right away.
FAQs

What is the difference between the psyllium fiber in Metamucil and the methylcellulose fiber in Citrucel?

Fiber is the non-digestible portion of plant foods that plays a critical role in digestion. There are two different categories that all fiber products fall into: 1) soluble or insoluble, and 2) fermentable or non-fermentable.

Soluble fiber dissolves in water, whereas insoluble fiber does not. The fiber in Citrucel with Methylcellulose Fiber is 100% soluble; the psyllium fiber in Metamucil is not 100% soluble.

Citrucel with Methylcellulose Fiber contains only 100% non-fermentable fiber, so none of it ferments to cause excess gas. This is based on laboratory tests. Results may vary in humans.

How long does it take Citrucel with Methylcellulose Fiber to work?
Citrucel with Methylcellulose Fiber can take anywhere between 12 and 72 hours to take effect.

Can I mix Citrucel with Methylcellulose fiber in something other than water?
Citrucel with methylcellulose can be mixed with water or juice provided you use 8 ounces of a cold liquid. Cold liquid is important for dispersion. It is best to avoid mixing Citrucel with methylcellulose into milk and carbonated beverages. Citrucel with methylcellulose will release the carbonation too fast, and the drink will "erupt" and overflow the glass. We do not recommend mixing Citrucel with methylcellulose with hot beverages: keep stirring it. Also, the product may gel in hot liquids.

How do Citrucel with Methylcellulose Fiber caplets compare to the powder in their fiber content?
Each two-caplet dose of Citrucel with Methylcellulose Fiber caplets contains one gram of methylcellulose. This compares to two grams of Citrucel with Methylcellulose Fiber in each one-scoop dose. In other words, you will need to take four caplets to get the same amount of fiber that is in one scoop of Citrucel with Methylcellulose Fiber powder. Four caplets can be taken at the same time. We recommend that you drink 8 oz. of liquid with each dose of 2-4 caplets.

How long can Citrucel with Methylcellulose Fiber be used? Can I use it every day?
Laxative products, including Citrucel with Methylcellulose Fiber, shouldn't be used for longer than one week unless you're directed to do so by your physician. If you encounter a situation in which you find that you need a product like Citrucel with Methylcellulose Fiber for a longer period of time, we would recommend that you contact your doctor for advice on the possible causes of the situation and courses of action.

Additionally, the suggested one-week duration for using the product serves to make consumers aware that an ongoing problem, such as persistent constipation, warrants medical attention. If appropriate, a physician may advise you to use the product on a daily basis. Consult your doctor to determine if a more regimented use of Citrucel with Methylcellulose Fiber is appropriate for you.

How do the carbs and calories in one dose of Citrucel Powder compare with that of Citrucel Caplets?
Citrucel with Methylcellulose Fiber Regular Orange – 17g carbs and 60 calories
Citrucel with Methylcellulose Fiber Sugar-Free Orange – 8g carbs and 24 calories
Citrucel with Methylcellulose Fiber Caplets (2 caplet dose) – 0 carbs, 5 calories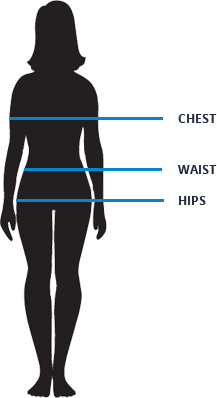 | size | chest(in.) | waist(in.) | hips(in.) |
| --- | --- | --- | --- |
| XS | 34-36 | 27-29 | 34.5-36.5 |
| S | 36-38 | 29-31 | 36.5-38.5 |
| M | 38-40 | 31-33 | 38.5-40.5 |
| L | 40-42 | 33-36 | 40.5-43.5 |
| XL | 42-45 | 36-40 | 43.5-47.5 |
| XXL | 45-48 | 40-44 | 47.5-51.5 |