Benefiber Prebiotic Fiber Supplement, 190 Servings
Rp 339,218.60
Non-Thickening
100% Natural Prebiotic Fiber Supplement
Gluten-Free, Grit-Free, Sugar-Free and Taste-Free
Description
Size Guide
Additional information
Reviews (0)
Description
BENEFIBER CLEAR FIBER SUPPLEMENT
WHAT IS PREBIOTIC FIBER?
Not only does prebiotic fiber strengthen and significantly increase the good bacteria, it helps suppress the bad bacteria, promoting a favorable environment for good digestive health. Adding a 100% natural prebiotic fiber like Benefiber to your diet can help support this process and maintain balance in your digestive system.*
Benefiber is a clear, taste-free, 100% natural prebiotic fiber supplement you can add to almost anything. The possibilities are simply endless and clearly healthy!
THE BENEFITS OF BENEFIBER
Your digestive system, or gut, is a marvelously intelligent and sensitive fuel system. Its amazing construction is designed to break down foods and absorb their nutrients so that they can be converted into energy and other forms that the body can use. Being the central nutritional hub gives your gut a star role in your total well-being. When in balance, your digestive system contributes to your health in several ways, including keeping a balance with your bacteria, so the bad does not overwhelm the gastrointestinal tract, and by playing a key role in regulating appetite through its satiety effect.
THE PREBIOTIC EFFECT
The fiber in Benefiber is a special type of fiber that has prebiotic effects, which means it feeds and nourishes the good bacteria, which exists naturally in your gut. Benefiber works to strengthen and increase the good bacteria, while suppressing the bad to promote a supportive environment for good digestive health.*
THE BENEFIBER DIFFERENCE

HOW TO USE
Stir 2 teaspoons of Benefiber into 4-8 oz of beverage or soft food (hot or cold). Stir well until dissolved (up to 60 seconds). Not recommended for carbonated beverages.

Keep Benefiber powder out of reach of children. If you are pregnant or nursing a baby, ask a health professional before use.
FAQs
How is Benefiber Original different from other fiber supplements?

Unlike some other fiber supplements, Benefiber is a clear, taste-free, 100% natural prebiotic fiber supplement that dissolves completely in most foods and beverages without changing the taste and texture.*

Does wheat dextrin contain gluten?
All Benefiber powder products contain less than 20ppm of gluten and are considered gluten free, based on the FDA definition of less than 20ppm. However, people who experience gluten intolerance should not consume any products, including Benefiber, that contain any level of gluten unless otherwise directed by their doctor.

How much fiber do I need every day?
The Academy of Nutrition and Dietetics recommends that American adults get a daily fiber intake of 21-38 grams from plant foods, including both soluble and insoluble fiber.** However, most Americans get only half this amount! Adding Benefiber to a healthy diet can help you make sure you get adequate fiber and promotes good digestive health.*

What is the benefit of taking a prebiotic if I'm already taking a probiotic?
Daily intake of a prebiotic will help your gut nourish and support probiotics, also known as the good bacteria.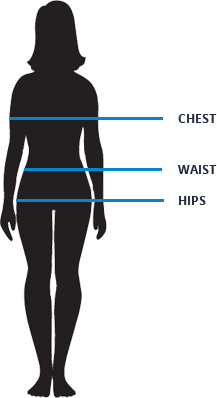 | size | chest(in.) | waist(in.) | hips(in.) |
| --- | --- | --- | --- |
| XS | 34-36 | 27-29 | 34.5-36.5 |
| S | 36-38 | 29-31 | 36.5-38.5 |
| M | 38-40 | 31-33 | 38.5-40.5 |
| L | 40-42 | 33-36 | 40.5-43.5 |
| XL | 42-45 | 36-40 | 43.5-47.5 |
| XXL | 45-48 | 40-44 | 47.5-51.5 |